HERBIE HANSEN
A Biography

Herbie Hansen is a native Minnesotan and youngest of 4 boys. Hansen grew looking up to his father who filled pulpits by telling jokes and stories that enraptured his congregations by acting out scenes and changing character voices. This planting of "seeds of
performance" found fertile ground in Hansen.
Hansen, having dreamed (literally) in High School of performing outside on city streets, had his creative focus early in life. He was one of the first people Steve Terrell called when Lamb's Players Street Theatre was being started. He was instrumental in getting that group off the ground, moved to San Diego and successfully touring College Campuses and Renaissance Festivals around the country performing comedic morality plays. He also designed and built all the portable sets.
Lamb's Players
still performs from their Theatre in Coronado, CA.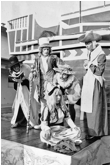 He then attended the University Of Minnesota where he received a BFA in Acting. There he formulated the idea of Sak Theatre as Comedic Audience Participation Story Tellers where the guests would be the stars. For several years Sak grew to several groups touring Renaissance Festivals and doing children's theater all over the country. Hansen's groups caught the attention of Walt Disney World and were hired to perform for Epcot Center's opening. Hansen introduced the idea of comedic performances by actors at Disney Parks and quickly grew at Disney from that first performing group to 5 groups all over Epcot and was integral in their convention and special events business.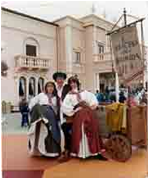 Walt Disney Imagineering hired Hansen for his creativity and he worked developing ideas for future theme parks and attractions. After 7 years with Disney, Sak Theatre formulated their resident indoor stage now called
Sak Comedy Lab
.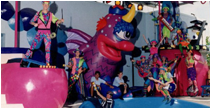 Hansen has become a consultant and employee of many Theme Parks. The Creative Manager at Fiesta Texas in San Antonio and Atmosphere Show Producer for Universal Studios Japan, are among the standout locations. He has been a creative consultant for many theme park companies in the North America, Asia, Middle-East and Europe.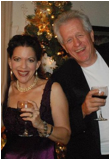 Hansen is most proud of his three grown daughters, his grandchildren and lives in Orlando with his wife Debbie. Between creative consulting assignments he can be found once again at Walt Disney World where he works part-time as a Stage Manager and looking and dreaming about producing the next big thing! It is here where he started
Handy Herby.