Magnolia's first production was "The Climb to Golgotha". This musical is about the life of Christ, based on the perspective of the Jewish people.
THE CLIMB TO GOLGOTHA
The musical shows their lives before and after his birth, death and resurrection and the impact that He made on them personally and as a people. This musical used all high school actors and became a large community event, receiving backing from various local churches.
We were delighted in our first official performance in the Twin Cities in the spring of 2005 at Sabathani Community Center. Our premiere production was "The Little Match Girl," a heartrending story that captures the tragic nuances of a little girl's everyday life, which is based on the story by Hans Christian Anderson.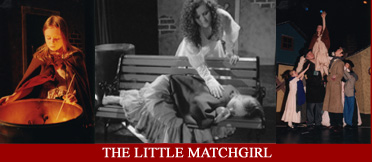 It was set in 1846 England and attempted to remain as true to the feel of the original fairy tale. This musical was produced by community actors and was open to the public. A portion of the proceeds went towards the Christian Children's Fund to help support children in need.
Our last production was an adaptation of the love story of Cupid and Psyche. This love story is inspired by the ancient Roman myth of Cupid and Psyche. A simple sketch of the drama unfolds; the beautiful Psyche is so envied by the goddess of love that she conspires to destroy her by sending her son Cupid into complete Psyche's ruin. These schemes start to unravel when Cupid's heart is captivated by Psyche, but the cunning of the goddess of love lures Psyche into further danger. Through intrigues, passions and twists of deception, this fantasy concludes in beauty, charm, humor and true love.
"Cupid & Psyche" was our next step in our vision for this organization. This original production brings the community together where they will encounter a story of love. This story encourages a life of love, truth, and grace to the audience. We want to give a big thanks to the Creative Gift Foundation for supporting us in our current project "Cupid & Psyche." We would not have been able to make this project happen without your financial gift!!
We are always in need of original work. If you believe you have a piece that would interest us, please contact us. We will base all our deciding on our organizational purposes. To learn more read Who Are We?.